CURRENT EXHIBITIONS
Skid Row History Museum & Archive
Open: Thur, Fri, Sat, 2-5pm
and by appointment [email protected]
office: 213 413 1097
Enough is (never) Enough:
Hard Truths and the People Who Live Them

Skid Row History Museum & Archive
September 16 – November 18, 2023
September 16, 5-7pm: Opening Reception
October 14: Photo Talk (Featuring Prof. Blumenkrantz, and photographers from the How We See It homelessness photo project) 
November 11:
 Multimedia student presentations on investigative reports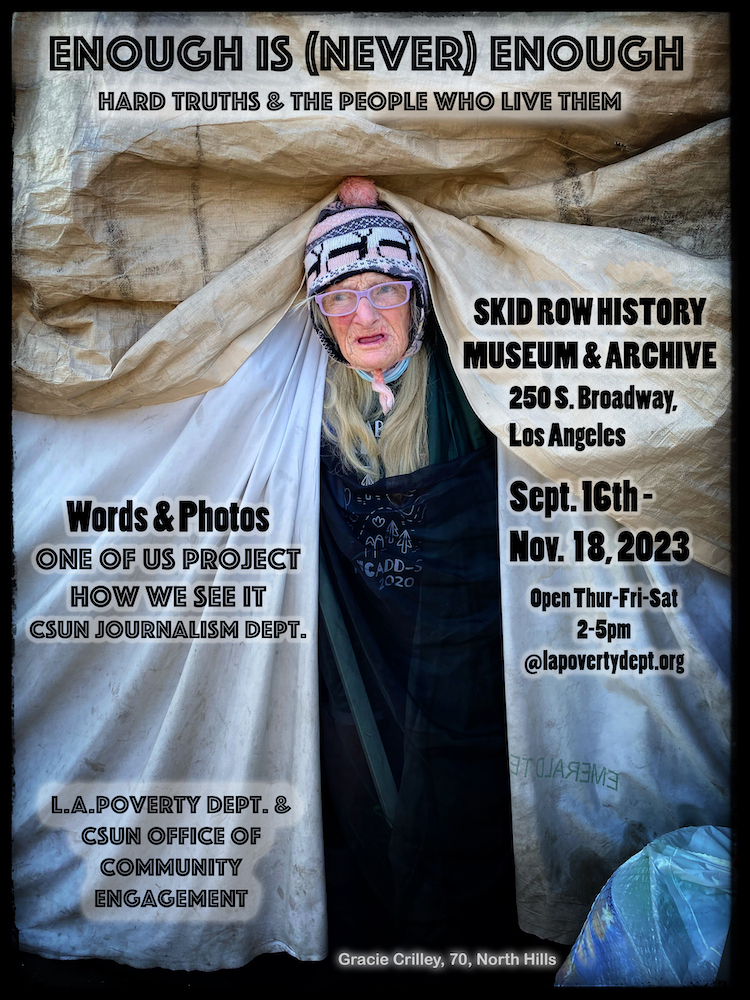 Enough is (never) Enough:
Hard Truths and the People Who Live Them
September 16 – November 18, 2023
Exhibition centers featuring photographs and text by artist and educator David Blumenkrantz, along with works by four photographers who have lived experience with homelessness: Bobby Buck, Cleta Felix-West, Lelund Hollins and Ian Storm.
COSMOLOGY & COMMUNITY:
Networks of Liberation
February 18 – August 28, 2023

Exhibition centers on the work of Community Curator Charles Porter, in collaboration with & support of curatorial staff of Skid Row History Museum & Archive. With murals by Dimitri Kadiev, Joshua Grace, and Ellie Sanchez.
THE WORLD RESPONDS TO THE WALK THE TALK ARCHIVE
@ Skid Row History Museum & Archive
December 8, 2022 – May 27, 2023

 Video responses that share what artists, scholars and others from California, Canada and Italy have learned from engaging with the 70-plus people celebrated in Walk The Talk.
Blue Book – Green Paper
@ Skid Row History Museum & Archive
November 22, 2022 – May 27, 2023
Come see The Blue Book come to life and get yourself a copy of The Green Paper. Help ensure this successor to the Blue Book is adopted and has a long, and fruitful life.
Systems of Exchange
Exhibition @ ArtCenter
March 27 – April 25, 2021
Elizabeth Preger brings together Los Angeles artist collectives, pairing a series of vitrines inhabited by local creative communities and their archival material in a celebration of artist-run networks of support.
How To House 7000 People in Skid Row
@ Skid Row History Museum and Archive
March 2020 – 2021

 The "Skid Row Now & 2040" plan, created by a coalition of Skid Row community members and groups, identifies funding sources to house people who have extremely low incomes. We're going to look at the plan–and additional ideas for funding housing that will get people off the streets and into housing.
THE ARTYSSEY
December 9, 2017 – January 13, 2018
The exhibit features the works of more than 40 Skid Row neighborhood artists from Lamp Arts Program, working in a variety of media, from painting to sculpture and multimedia art.
THE BACK 9
Golf and Zoning policy in Los Angeles
June 10 – November 12, 2017
A playable educational golf course about zoning and redevelopment politics in Downtown LA. Each hole of the course explores a different aspect of zoning and its political implications. Specifically the course connects with the planned DTLA2040 rezoning plan which will have dramatic effects on Skid Row. Designed by Rosten Woo, in collaboration with LAPD.
Blue Book / Silver Book
April 11 – June 28, 2015
In 1973 "The Blue Book," was adopted by the city, in part as a strategy that would "contain" poor people in one corner of downtown. Significantly, it had the reverse effect of also preventing upscale development within Skid Row.
General Dogon:
Screaming Two Wheelers
October 3 – December 18, 2015
An exhibition featuring Skid Row community civil rights organizer General Dogon and his low-rider bicycles.
About the Skid Row History Museum and Archive
The Skid Row History Museum and Archive is an exhibition /performing arts space curated by Los Angeles Poverty Department. It foregrounds the distinctive artistic and historical consciousness of Skid Row, a 40-year-old social experiment. The Skid Row History Museum and Archive functions as a means for exploring the mechanics of displacement in an age of immense income inequality, by mining a neighborhood's activist history and amplifying effective community strategies. The space operates as an archive, exhibition, performance and meeting space. Exhibitions will focus on grassroots strategies that have preserved the neighborhood from successive threats of gentrification and displacement, to be studied for current adaptation and use.
The space is activated by performances, community meetings and films addressing gentrification and displacement locally, nationally and globally. The culture that developed here on Skid Row—an activist culture, artistic culture and recovery culture—offers a useful model for other communities navigating gentrification pressures. The museum space also serves as a literal and artistic common ground, a welcoming space for Angelenos to meet and mingle and explore civic issues together.
In a second museum space an extensive archive of Skid Row History (planning documents, articles, videos, audios, interview transcripts etc.), are available for casual and scholarly research. Visitors will be able to access this archive, comment upon it and use it to further explore the show's themes.
Los Angeles Poverty Department's Skid Row History Museum and Archive is supported with funding from the Andy Warhol Foundation for the Visual Arts.