Henriette Brouwers
Associate Director and Producer
Henriëtte Brouwers, associate director and producer. Henriëtte Brouwers is a performer, director and teacher. She has been the Associate Director of the Los Angeles Poverty Department since 2000. Born in the Netherlands, Brouwers has a degree from the Academie voor Expressie door Woord en Gebaar. She studied corporeal mime with Etiènne Décroux and was a member of Augusto Boal's 'Theatre of the Oppressed' group in Paris (1979-82). Brouwers was invited to present her work in the US by the Theatre Project in Baltimore in 1993 and has since performed and taught at Towson University and the Baltimore High School for the Arts, UT of Knoxville, Touchstone Theatre in Bethlehem and 7Stages in Atlanta. She was movement director for Blue Monk, directed by Ed Smith for the 1996 Olympic Arts Festival in Atlanta, GA. Brouwers worked with John Malpede on the creation of 'RFK in EKY' a community-based re-enactment of Robert F. Kennedy's 1968 trip to investigate poverty in Appalachia. She is featured in artist Bill Viola's renowned 'The Passions' series, which has been exhibited extensively in major museums throughout the world. She performed her solo 'La lengua, the tongue of Cortès' both in the US and the Netherlands and directed a series of performances based on Mexican legends: at Pomona College 'Weeping Women and War'; with LAPD 'La Llorona, Weeping Women of Skid Row' performed in Skid Row and at a national conference on women and poverty at Scripps College, and 'La Llorona, Weeping Women of Echo Park' with a group of Latino immigrant Women in Echo Park. Brouwers and Malpede, co-direct and perform in many LAPD performances.
Anthony Taylor
Performer, Writer and Teacher
Anthony performed in LAPD's State of Incarceration in 2010, and has since been in many performances and projects. To name a few: Walk the Talk, Biggest Recovery Community Anywhere, Chasing Monsters From Under the Bed, What Fuels Development?. LAPD has inspired him to pursue an acting career at the Actors Academy at LA City College. He was the MC at last years Festival For All Skid Row Artists and conducts LAPD's theater workshops at the Weingart Center.
Christina Collier
Performer and singer
Christina first performed with Los Angeles Poverty Department in Walk The Talk and Chasing Monsters From Under The Bed and she has been an active member ever since, performing in What Fuels Development? and The Back 9. She is also a singer with the Urban Voices choir and a fellow with Street Symphony.
Shugga Queen of Rap
Performer, writer and singer
Shugga's first project with Los Angeles Poverty Department is Public Safety of REAL, 2018. She is also a singer with the Urban Voices choir. ``Good Evening, Simone Upgrade Shugga, Skid Row's finest independent artist, writer and performer. Shugga. Skid Row #1 Film & Television capitol of the world. Ja-Ja. Thanks. Shugga Queen of Rap. Communication rule the Nation.``
Walter Fears
Performer, writer, drummer, docent
Walter joined LAPD in 2010 and performed in State of Incarceration, Walk the Talk, Biggest Recovery Community Anywhere, HOSPITAL, A (Micro) History of World Economics, Settlement, What Fuels Development?, The Back 9 . Walter also oversees the stage managing at the Festival For All Skid Row artists and is a docent at the Skid Row History Museum & Archive. He is a leading member of the Skid Row Playaz; a percussion group that often performs at community events and is a regular at the Downtown Art Walk. Walter is US army veteran who volunteers to at the VA hospital in Westwood. He is an active member of Skid Row's LA Community Action Network.
Stephanie Bell
Performer and singer
Stephanie began with LAPD in the early 90's. After taking a break from performing, she returned to LAPD in 2013, as part of the cast of A (micro) History of World Economics, Danced, which was performed at Pershing Square. She has participated in many LAPD productions including Chasing Monsters From Under The Bed, Walk The Talk, What Fuels Development?. ``I've been with L.A.P.D. since dooms day. Love working with our people in the community. Hope and pray to see everyone in the near future!``
Tom Grode
Performer, writer and docent
Tom Grode, performer has worked with LAPD since 2015 on the production on What Fuels Development? and subsequently performed in The Back 9 and Walk The Talk. He has traveled with LAPD for community residencies in Philadelphia and Minneapolis. As a member of LA Poverty Department Tom also is a docent at the Skid Row History Museum and Archive. ``Tom Grode is a Skid Row artist/activist and honorary Tongva - Native people of Los Angeles. He's an actor/writer with LAPD. His great desire is that Blair Beston from the Historic Core BID will come by the Skid Row Museum and hang out.``
Jamaya Kapri
Performer, singer and dancer
Jamaya started working with LAPD on The Back 9 in 2016 and played Gen. Jeff in What Fuels Development? at Pangea World Theater, MN (2018). Jamaya has performed with various San Fransisco and Los Angeles Dance and Theater companies since 1965.
Jen Wilson
Performer and writer
Jen joined Los Angeles Poverty Department in 2015 for Chasing Monsters From Under Te Bed. She played Ms. Peterson in What Fuels Development and performed in The back 9 and several Walk The Talk projects.
Charles Jackson
Performer, singer, mover
Charles Jackson has performed with LAPD since 1995. He worked closely with Henriëtte Brouwers in developing the movement sequences in Is There History on Skid Row? In 2002 and 2007 he coordinated the activities of 12 university participants and international visitors in changeXchange; LAPD's month long instructional workshop in making community based art. For many years Charles has been the tenant representative for his building, The Ward Hotel.
Robert Citizen C. Smith
Performer
Robert Smith, Performer
A.K.A."Citizen Cane" in his rap artist persona. Cane has performed in a number of early LAPD productions including LAPD Inspects Raleigh, N.C. and LAPD's co-production with Goat Island, I Was Sleeping with My Eyes Open. He made his come back with What Fuels Development? and Walk The Talk. ``My Los Angeles Poverty Department acting goes all the way back to the mid 1990's. One of our first shows was Paul's Place. I had just stopped performing as Citizen cane a R&B rapper/sing.``

Lee Maupin
Performer
Lee Maupin is an actor and Skid Row resident who has worked with LAPD since 2014. He worked on Walk the Talk, Red Beard/Red Beard, What Fuels Development? and The Back 9. He is also a stage manager for LAPD's yearly art and music festival, Festival for All Skid Row Artists. In addition, he has worked with Cornerstone Theater Company on Love on San Pedro and most recently the California Tempest. ``My name is Lee (Monkey) Maupin. I've been working with Los Angeles Poverty Department 6 1/2 years now, knocking down door and turning out shows!``
Larry Swanson
Performer
Larry is an old time LAPDer who made his come back with Red Beard / Red Beard in 2015 and performed in Chasing Monsters from Under The Bed and The back 9. Larry is a volunteer reader in LA since 1993 and he hosts "Story Time For Kids" at the Festival For All Skid Row Artists.
Doug Jessop
Performer and writer
Doug is a new member of LAPD. Here is how he found us when he ran into our Walk The Talk parade last April: ``So I became a part of LAPD bc of a beautiful angel named Clancey. She floated down from heaven to save me. I remember asking myself is this real? No, it can't be. I pinched myself, and then realized I wanted a burrito. But Clancey's brilliant presence over rid the hunger. So I decided to run into the wilderness and couldn't find me an eagle or hippogriff. So I was conflicted. But her angel wings and immaculate presence had me at hello.. oh yes she had me at hello.``
Our dear friend and collaborator and Key LAPD staff member KevinMichael Key has passed on.  He died on Wednesday, July 19, 2017, surrounded by his loving children, brother, grandchildren and friends.
Kevin is a big and loving presence in the Skid Row community, working as an advocate with UCEPP (United Coalition East Prevention Project), as a community liaison for the diabetes program at JWCH Community Clinic and an important member of Critical Resistance.  He'd also worked with LA Community Action Network (LA CAN) and been a 2 term member of the Downtown Neighborhood Council.  He was one of the community leaders in the campaign to defeat a liquor license in the New Genesis Hotel, and that organizing victory became the subject of LAPD's 2016 production "What Fuels Development?"
Through his many involvements Kevin was an amazing effective connector in the community, coolly ambling down the street he operated at a speed faster than internet–and louder.  He'd boom out a shout to somebody across the street and get things done.  Or as he'd say, "when everyone's out there is pumpin' and fakin', KevinMichael is smoken' and shaken".  Kevin loved Skid Row cause it was the "New York part of LA".  A former public defender Kevin was at ease approaching and if necessary getting in the face of people in suits, but his main love was striking up a conversation with anyone on any street in Skid Row.   Of course, he loved people wherever he was.  LAPD was in El Alto Bolivia, about to do "Agentes y Activos" our Spanish language show about the futility of the war on drugs.  El Alto is a shanty town of over a million people that hovers over the city of La Paz.  Before the show, Kevin went out in to the plaza, and with super limited Spanish approached families, adults and children, giving them fliers and a big smile.  "Agentes y Activos, teatro, gratis, aqui en quince minutos".  Fearlessness enabled by love.  When we played the same show in a prison, afterwards one of the inmates referred to him as "the big Cubano",  because of his accent.  We all felt this was a big coup—that his accent was recognizable as anything in particular, as he'd learned his lines phonetically.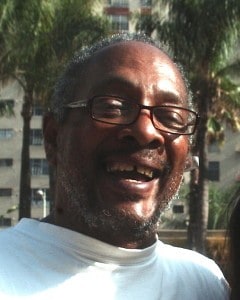 Kevin was proud to say, "Skid Row saved my life.  I got clean and sober on Skid Row."  And he helped a lot of people on the road to recovery.  Never preachy, but always warm, disarming and funny, Kevin was able to convince people that they could do better for themselves, get out from under their pain.  We were reading an article from the New York Times claiming that Del Rey Beach was a big location for recovery, because there are all sorts of expensive programs there and people come there, go through the programs and then stay in the community.  We laughed and decided that's nothing compared to Skid Row.  We decided to make "Biggest Recovery Community Anywhere", which we did.
When  he received his cancer diagnosis, we went from rehearsal to the sidewalk outside his apartment at the Yankee Hotel for a group hug that lasted 15 minutes —as sirens blared and fire trucks pealed off from Skid Row firehouse #9.  At the end of the hug Kevin looked at us all, Henriëtte, Tone-Tone, Christina and myself and said, "From now on only love."
We're carrying your love with us my brother.  We love you Kevin.  Only love.
John Malpede
Linda Harris, performer and singer.
Linda was a singer and actress who loved to dance.  She worked with LAPD since 2009, performing in Let's Go, State of Incarceration, 3 Walk the Talk projects and Biggest Recovery Community Anywhere.  She traveled to the Netherlands to rehearse and perform HOSPITAL with Wunderbaum.  She was an inspiration, singing her favorite songs at the Festival For All Skid Row Artists.  Linda's optimism, her love for her husband Robert and her community inspired us all to stay positive and never give up.  As she used to say: "I love myself and life is beautiful."   Linda also performed in The Soloist and appeared in the documentary Lost Angels.  She was a member of the choir of the Central City Community Church.  Linda Harris died in the summer of 2016 and we miss her.