Public Safety for REAL
performance project / community conversations
2017 – 2018
Directed by John Malpede
The project articulates a vision, in which "Public Safety" is generated by cultivating a sense of mutual responsibility among community members for creating the well being of their community.
"Public Safety for Real" is about community generated Public Safety. That means taking back the notion of "public safety" –and reclaiming it, so that it's no longer something imposed on the community, but rather is something that comes from the community.  In making the performance we'll be exploring initiatives within Skid Row that are currently generating real public safety and we'll imagine a community future.  The project starts with an understanding that public safety –for real, comes from self-governance.
LAPD performance workshops for "Public Safety for Real" have just begun.  They take place Tuesday and Thursday from 7 – 9pm at our Skid Row History Museum & Archive (between 2nd and 3rd Streets).  If you live or work in Skid Row, you are welcome to participate in the workshops and perform with us.
The project includes a series of five public conversation events integral to building the performance project.  Public Safety conversations at LA Poverty Department's Skid Row History Museum & Archive are made possible with support from California Humanities, a non-profit partner of the National Endowment for the Humanities.  Visit www.calhum.org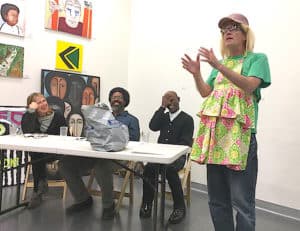 December 13, 2017: Community Generated Safety—How it works in Gladys Park.
A case study from Los Angeles Poverty Department's Festival for All Skid Row Artists.
Community dialog with: Historian Cathy Gudis, UC Riverside; Charles Porter, United Coalition East Prevention Project and Walter Fears, LA Poverty Department.
Franc's Melting Pot will bring back the Festival spirit with Skid Row Artist Demetra Wilson, performing with the band, at the after party, closing out this year.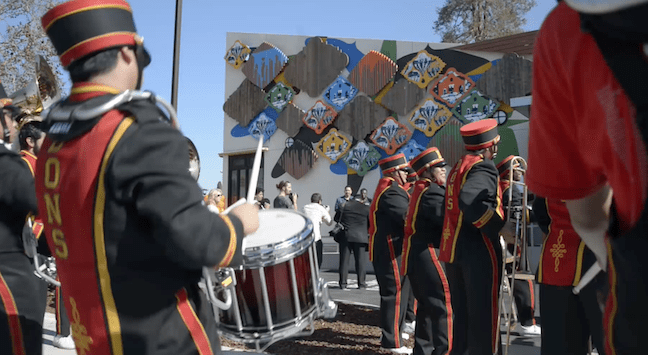 February 2, 2018: "Civic Art: Four Stories from South Los Angeles"  A film by Mark Escribano and Sara Daleiden, s(o)ul
Movie Nights at the Museum: Filmmaker and artist Sara Daleiden will facilitate a post screening conversation with Lanetta Kimmons of City of Los Angeles, Department of Recreation & Parks and Eddie Howard of the Skid Row Parks Committee and you after the screening!
"Civic Art: Four Stories from South Los Angeles" follows the rarely witnessed, intricate process of one of the most mysterious and controversial art forms affecting the public at large. This documentary delves into the requisite political journeys navigated by Los Angeles-based artists as they wrestle with myriad social sensitivities, budgetary constraints, and technical variables. Attempting to stay true to their art process and aesthetic tendencies, these artists negotiate with the government and the neighborhoods to produce ambitious, permanent, large-scale art projects. With the intent to alleviate graffiti and amplify use of shared public spaces, these projects explore the extensive social power of art within four neighborhoods in South Los Angeles County.
"Civic Art: Four Stories from South Los Angeles" was Commissioned by Los Angeles County Arts Commission Civic Art Program Open Space Graffiti Abatement Project in collaboration with Office of Supervisor Mark Ridley-Thomas, 2nd District, County of Los Angeles Department of Parks and Recreation, County of Los Angeles Public Library. SPArt grant funding supports the film's screening series.
March 24: Zillionaires against Humanity – Community voice and Public Safety
Adrian Riskin, Professor of mathematics and author of civic engagement MichaelKohlhaas.org in conversation with community resident General Jeff, Chair of the Skid Row Neighborhood Council Formation Committee. The event is the third in a series of public conversation events integral to building LA Poverty Department's "Public Safety for Real" project. The project articulates a vision, in which "Public Safety" is generated by cultivating a sense of mutual responsibility among community members for creating the well being of their community. This evening's event is made possible with support from California Humanities, a non-profit partner of the National Endowment for the Humanities.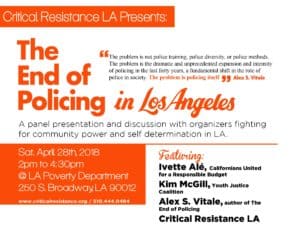 April 28: Public Safety and Common Sense
In his book, The End of Policing, author Alex Vitale asserts that public safety is jeopardized by the "dramatic and unprecedented expansion and intensity of policing in the last forty years that constitutes a fundamental shift in the role of police in society. The problem is policing itself."
The conversation will explore common sense alternatives to militaristic policing, solutions that create safe neighborhoods and save public dollars.
The author will present his book and discuss it with you and discussants:
Ivette Alé, Californians United for a Responsible Budget (CURB coalition), Kim McGill, Youth Justice Coalition, Alex S. Vitale, author of The End of Policing, Laura Ramos, Critical Resistance LA, moderated by Mohamed Shehk, Critical Resistance.
100% of the book sales goes to CRLA thanks to generous Verso Books donation. This event is presented by Critical Resistance and LA Poverty Department.
Saturday June 23: Gregory Sale and Anti-Recidivist Coalition
Artist Gregory Sale and members of The Anti-Recidivist Coalition will discuss their community building and advocacy work that engages people coming out of prison, to make a future that keeps them from going back in.  They'll unpack their strategic use of art to change the narrative around incarceration through their collaborative art project Future ID's for Alcatraz.  Anti-Recidivism Coalition (ARC) is a movement of formerly incarcerated individuals, advocates, and allies committed to transforming the justice system and improving reentry outcomes. Today, the Coalition has grown into a support and advocacy network of more than 300 members, and hundreds of volunteer mentors and allies, committed to helping one another through reentry, and advocating for a fairer criminal justice system.
Working nationally, Gregory Sale has generated aesthetic frameworks for individuals directly affected by the system, connecting them with communities and initiating discourse around social justice. Sale is now undertaking a series of projects focused on the challenges of reentering society after incarceration. He is currently producing Future IDs: reframing the narrative of re-entry (2016-present), with the Los Angeles-based Anti-Recidivism Coalition.
Future IDs at Alcatraz Opening in Fall 2018 at the iconic prison-turned-national park in San Francisco Bay, Future ID's at Alcatraz is a year-long exhibition featuring ID-inspired artwork by men and women with conviction histories. In stark contrast to prison-issued IDs, these artworks are about individual stories of transformation and how those stories collectively can help re-frame the narrative of re-entry. The installation will be accompanied by a series of monthly public programs and workshops created in collaboration with local organizations and communities.
Developed with individuals honing their ability to succeed after incarceration and desiring to make that transition easier for others, the project is led by a core project team of Dr. Luis Garcia, Kirn Kim, Ryan Lo, and artist Gregory Sale who are working in partnership with the Anti-Recidivism Coalition, the William James Association, the National Park Service, its nonprofit partner the Golden Gate National Parks Conservancy, and others to realize this art and social justice campaign. The project will activate the public's imagination, changing underlying cultural biases and helping to generate the critical community support necessary to advance justice reform.   Read LA WEEKLY about the event.
Thursday, July 19: A Roundtable Community Conversation: Public Safety for REAL, facilitated by Fred Moten and Beckey Dennison.
This convening brings together people in Skid Row who have been working to create true public safety practices that come from the community and do indeed make the community safer. The speakers are: Charles Porter, Steve Diaz, Tiffanny Rose, General Dogon, Pastor Cue, Sara Shortt, General Jeff, Hayk Makhmuryan, Amara Ononiwu, Christopher Mack and Alisa Orduna.
The conversation will be facilitated by Fred Moten, Professor of Performance Studies at New York University. Fred Moten is the author of a number of books, including In the Break: The Aesthetics of the Black Radical Tradition and The Undercommons: Fugitive Planning and Black Study. He is especially concerned with the social force and social origins of black expressive cultural practices, and the relation between insurgent social movements and experimental art. His insights into social movements give him a deep understanding of the significance of grass roots initiatives in Skid Row to build community and safety and resist unjust policing.
The evening had a Roundtable format, with concentric circles of speakers and audience. Fred Moten convened the evening and framed its purpose and goals via Skype because he was unable to come from NY.  Beckey Dennison, Executive Director of Venice Community Housing, was gracious enough to be our facilitator, she introduced the questions and each speaker in the inner circle had 3 or so minutes to respond. They were encouraged to riff off of each other's responses, by comparing insights and approaches, supplementing or offering alternative views. At the end of each round there was an opportunity for an 'open dialogue' among the speakers. After the questions had been posed and discussed, the space was opened up for 30 minutes of audience questions.  The convening ended and general mingling ensued, giving listeners a chance to approach speakers and engage in follow up discussions.
Walter Fears, Tom Grode, Henriëtte Brouwers, Jamya Kapri, Lee Maupin, Chas Jackson, Stephanie Bell, Anthony – Tone Tone – Taylor, Omar Pye, Shugga Queen of Rap, John Malpede, Christina Collier, Doug Jessop.
The Community Conversations are made possible with support from California Humanities, a non-profit partner of the National Endowment for the Humanities. Visit www.calhum.org. LAPD's "Public Safety for Real" performance project is supported by the Robert Rauschenberg Foundation, The MAP Fund, the National Endowment for The Arts-theater, The City of Los Angeles Department of Cultural Affairs and California Humanities.