2016 – 2018
Directed by John Malpede
The project articulates a vision, in which "Public Safety" is generated by cultivating a sense of mutual responsibility among community members for creating the well being of their community.
"Public Safety for Real" is about community generated Public Safety. That means taking back the notion of "public safety" –and reclaiming it, so that it's no longer something imposed on the community, but rather is something that comes from the community.  In making the performance we'll be exploring initiatives within Skid Row that are currently generating real public safety and we'll imagine a community future.  The project starts with an understanding that public safety –for real, comes from self-governance.
LAPD performance workshops for "Public Safety for Real" have just begun.  They take place Tuesday and Thursday from 7 – 9pm at our Skid Row History Museum & Archive (between 2nd and 3rd Streets).  If you live or work in Skid Row, you are welcome to participate in the workshops and perform with us.  The project includes a series of five public conversation events integral to building the performance project.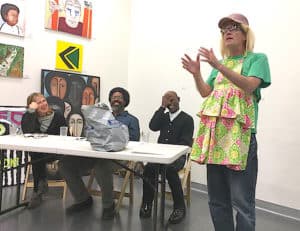 December 13 – Community Generated Safety—How it works in Gladys Park.
A case study from Los Angeles Poverty Department's Festival for All Skid Row Artists.
Community dialog with: Historian Cathy Gudis, UC Riverside; Charles Porter, United Coalition East Prevention Project and Walter Fears, LA Poverty Department.
Franc's Melting Pot will bring back the Festival spirit with Skid Row Artist Demetra Wilson, performing with the band, at the after party, closing out this year.
February 2 – "Civic Art: Four Stories from South Los Angeles"  A film by Mark Escribano and Sara Daleiden, s(o)ul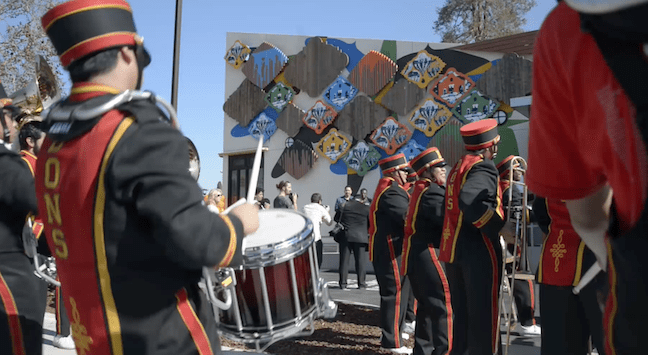 Movie Nights at the Museum: Filmmaker and artist Sara Daleiden will facilitate a post screening conversation with Lanetta Kimmons of City of Los Angeles, Department of Recreation & Parks and Eddie Howard of the Skid Row Parks Committee and you after the screening!
"Civic Art: Four Stories from South Los Angeles" follows the rarely witnessed, intricate process of one of the most mysterious and controversial art forms affecting the public at large. This documentary delves into the requisite political journeys navigated by Los Angeles-based artists as they wrestle with myriad social sensitivities, budgetary constraints, and technical variables. Attempting to stay true to their art process and aesthetic tendencies, these artists negotiate with the government and the neighborhoods to produce ambitious, permanent, large-scale art projects. With the intent to alleviate graffiti and amplify use of shared public spaces, these projects explore the extensive social power of art within four neighborhoods in South Los Angeles County.
"Civic Art: Four Stories from South Los Angeles" was Commissioned by Los Angeles County Arts Commission Civic Art Program Open Space Graffiti Abatement Project in collaboration with Office of Supervisor Mark Ridley-Thomas, 2nd District, County of Los Angeles Department of Parks and Recreation, County of Los Angeles Public Library. SPArt grant funding supports the film's screening series.
Walter Fears, Tom Grode, Henriëtte Brouwers, Jamya Kapri, Chas Jackson, Omar Pye, Elzie Alexander, John Malpede, Christina Collier, Olusheyi Adeeko Banjo.
This evening's event is made possible with support from California Humanities, a non-profit partner of the National Endowment for the Humanities. Visit www.calhum.org. LAPD's "Public Safety for Real" performance project is supported by the Robert Rauschenberg Foundation, The MAP Fund, the National Endowment for The Arts-theater, The City of Los Angeles Department of Cultural Affairs and California Humanities.