LAPD exhibit and performances at BIPOC Exchange, FRIEZE Los Angeles, Feb. 17-20, 2022
LAPD exhibit's Walk The Talk and performs excerpts from The New Compassionate Downtown at BIPOC Exchange at FRIEZE Los Angeles 2022
Location: Beverly Hills Hilton, inside the Wilshire Garden
9876 Wilshire Boulevard, Beverley Hills, California, 90210

Opening hours:
Thursday Preview, February 17: 10am – 7pm
Friday Preview, February 18: 11am – 8pm
Saturday, February 19: 11am – 7pm
Sunday, February 20: 11am – 6pm
LA Poverty Department will exhibit materials from our biennial "Walk the Talk" performance parade at BIPOC Exchange, curated by Tanya Aguiñiga: Frieze Projects 2022. LAPD members will also perform excerpts from our 2021 performance at MOCA, "The New Compassionate Downtown". The performances are scheduled for Thursday, February 17 at 2:30pm and Sunday, February 20 at 5:00pm. Three books on the work of LAPD and some of our "Menacing Cool" merch will be displayed and available to buy.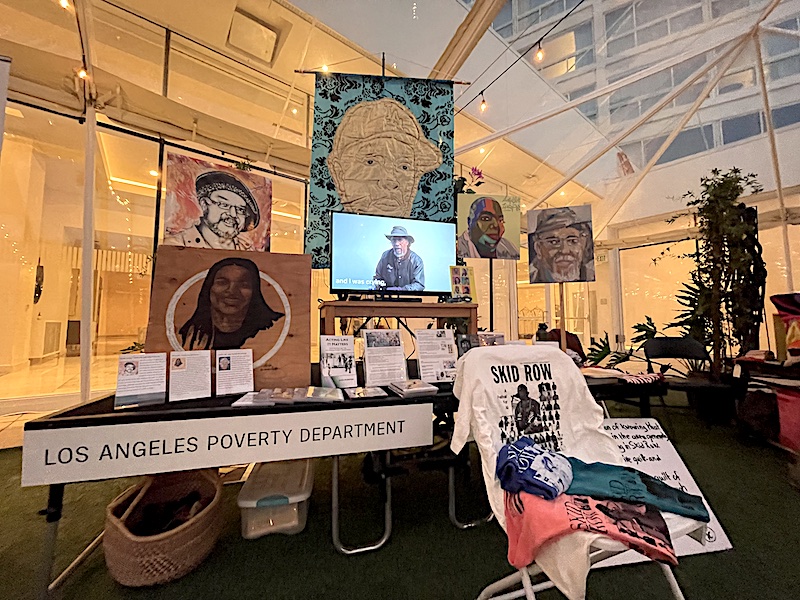 "Walk the Talk" acknowledges Skid Row residents and workers who have done transformative work in the community. The parade features a New Orleans style brass band, artist rendered portraits of each honoree, and performances by LAPD about each honoree –at the spot in Skid Row where they've done their work. At Frieze, we'll exhibit a looping 20-minute video of Walk the Talk and display one portrait from each iteration of Walk the Talk. The 5 artists who have each made portraits for Walk the Talk are: Mr. Brainwash (2012), Brian Dick (2014), Pairoj Pichetmetakul (2016), Crushow Herring (2018) and Man One (2020).
All the interviews and videos of Walk the Talk performances are available on a dedicated Walk the Talk website. The 6th biennial Walk the Talk parade will take place Saturday, May 28, 2022.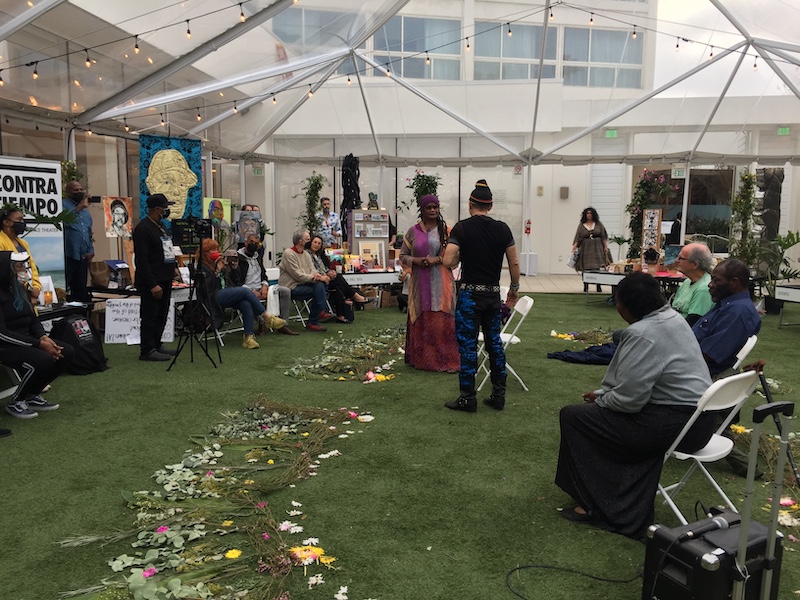 In addition to the Walk The Talk installation we will have available for purchase 3 books on our work: Walk the Talk 2020, scripts of the performances honoring the 2020 honorees and photos; Acting Like it Matters, a history of LAPD's work by James McEnteer, and Agents & Assets, script, interviews and public conversations revealing the impact of the war on drugs on low-income communities of color, compiled, edited and with an introduction by LAPD Artistic Director John Malpede.
And, we'll have a limited number of our coveted "Skid Row Artist – Menacing Cool" shades that are given to artists participating in our annual Festival for All Skid Row Artists (FASRA), and FASRA tee shirts and history marking 2021 FASRA Menacing Cool face masks.

About BIPOC Exchange
A highlight for Frieze Los Angeles 2022 is a collaboration with artist Tanya Aguiñiga, founder of Art Made Between Opposite Sides, to present BIPOC Exchange. The artist and activist brings together BIPOC-led organizations from across the city of LA into a radical communal space at Frieze Los Angeles 2022.
This communal space, located within The Beverly Hilton Hotel, inside the Wilshire Garden, will present 10 Los Angeles-based, artist-led social impact projects. Taking place February 17–20 as part of the Frieze Projects program, BIPOC Exchange will look to create a space that honors each organization's activities and efforts to make Los Angeles a more just community through a diverse range of disciplines, communities served, and range in project scale.
Participating organizations include People's Pottery Project, Tierra Del Sol, AMBOS, Las Fotos Project, Classroom of Compassion, Tequio Youth/MICOP, Contra Tiempo, GYOPO, Los Angeles Poverty Department, and Urban Voices Project.