March 27 – April 25, 2021
Exhibition at ArtCenter, in the window on 4th street, at the corner of Main and 4th street, downtown.
Download the PDF of the exhibition newspaper.

Elizabeth Preger brings together Los Angeles artist collectives under the exhibition Systems of Exchange, pairing a series of vitrines inhabited by local creative communities and reproductions of their archival material and ephemera in a celebration of artist-run networks of support.
From the Skid Row History Archive,the Los Angeles Poverty Department is exhibiting:
– Posters from our Festival for All Skid Row Artists
– Movie excerpts from the Walk the Talk archive https://app.reduct.video/lapd/walk-the-talk/
– Pictures from our early performances: "Talent Show on 'Thieves Corner' (5th and Wall)" in 1985 and "No Stone for Studs Schwartz" in 1987.
– And a Lion-mask from the exhibition "Nick Paul & Diane Prozeller", 2020, made by Nick Paul.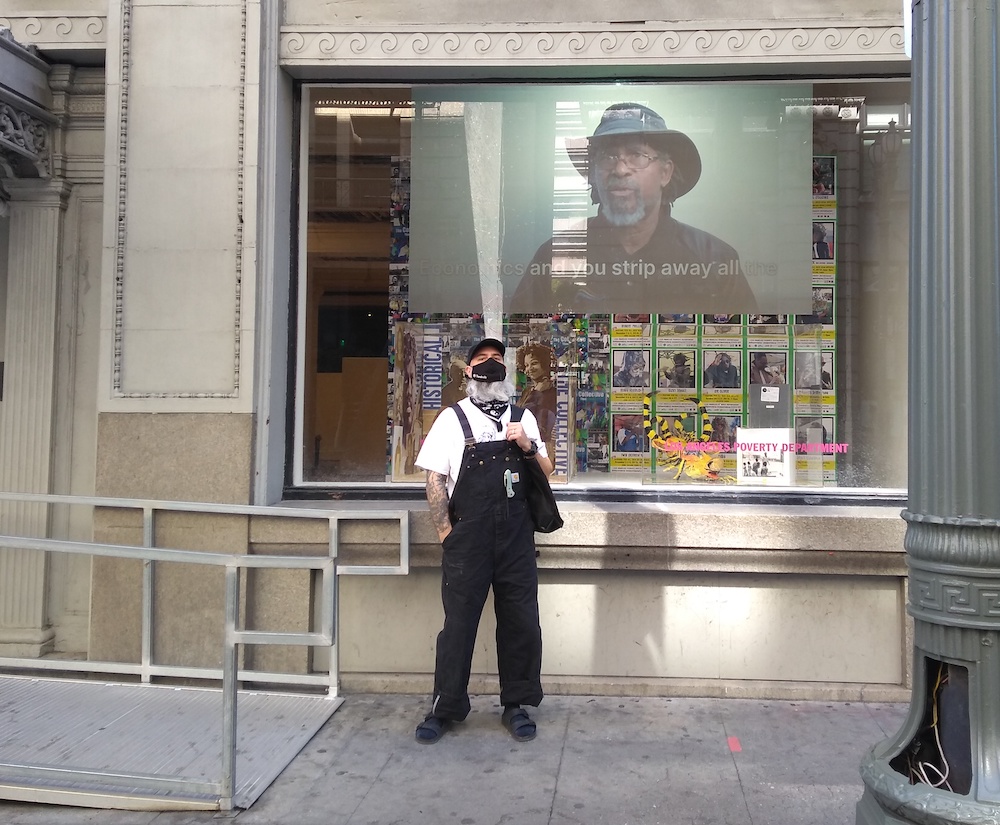 Supporting the last show of our "Fractal Views" window series in our eighteen-month residency at ArtCenter DTLA – A multimedia exhibition curated by @elizabethpreger up from now until April 25. We'll share more goodies as the month rolls on. Happy Spring!
Inspired by the necessity of mutual joy to sustain ongoing exchange, Elizabeth Preger invited five L.A.-based artist-run networks to create an installation within a vitrine. Celebrating the interdependence and pleasure found in collaboration, this exhibition showcases how people create webs of support when doing things together.
Featuring: KCHUNG (@kchungradio), Los Angeles Poverty Department (@lapovertydepartment), The Collective (@thecollectiveLA99), Auntie Sewing Squad (@auntiesewing), and Love's Remedies (@loves_remedies) Organized by Elizabeth Preger (@elizabethpreger) and newspaper design by Lusí-Andrés Ajonjolí(@fem_earth_cardinal). Thank you @artcenteredu @artcenterexhibitions and @crsvalentime !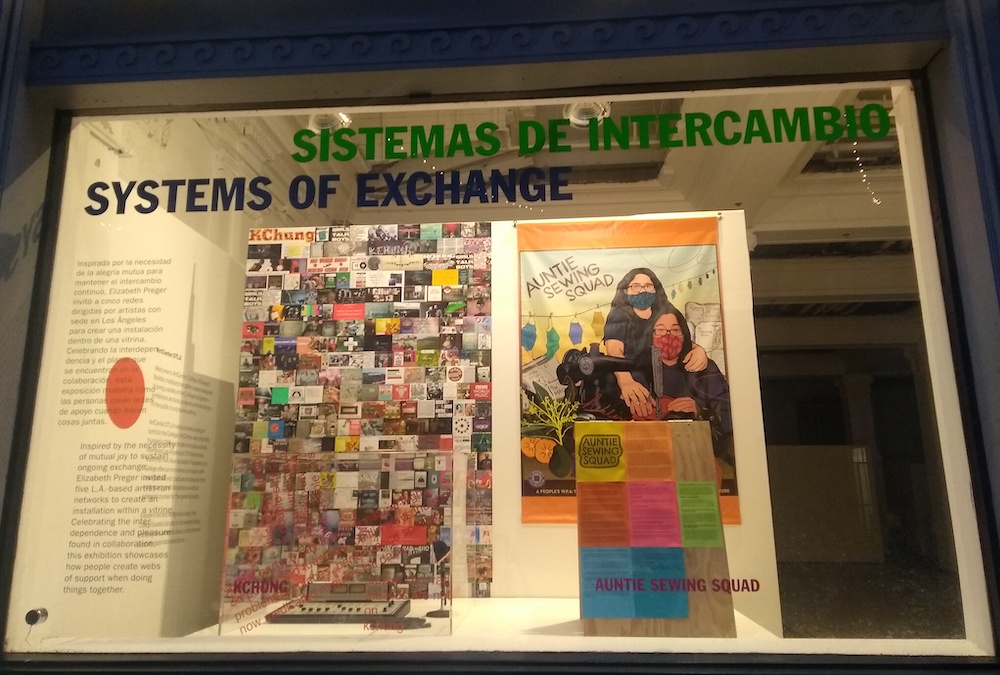 Apoyando el último exposición de nuestra serie de ventanas "Fractal Views" en nuestra residencia de dieciocho meses en ArtCenter DTLA – una exposición multimedia comisariada por @elizabethpreger desde ahora hasta el 25 de abril. Compartiremos más regalos a medida que avance el mes. ¡Feliz primavera!
Inspirada por la necesidad de la alegría mutua para mantener el intercambio continuo, Elizabeth Preger invitó a cinco redes dirigidas por artistas con sede en Los Ángeles para crear una instalación dentro de una vitrina. Celebrando la interdependencia y el placer que se encuentran en la colaboración, esta exposición muestra cómo las personas crean redes de apoyo cuando hacen cosas juntas.
¡Gracias @artcenteredu @artcenterexhibitions y @crsvalentime!