Artists Celebrate Downtown as the Birthplace of Recovery in LA
What: A surprise birthday party celebrating the birth of the recovery movement in Los Angeles.
When: Saturday, January 26, 2013, 12pm-1pm
Where: Meet on the corner of Main & 6th downtown (600 S. Main St., downtown Los Angeles)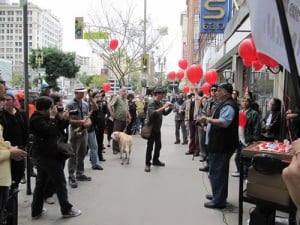 Why: Los Angeles Poverty Department (LAPD) & Otis College of Art & Design's Public Practice Graduate Students and downtown residents are teaming up to throw a surprise birthday party for Los Angeles and it's long-term commitment to recovery. January 26th, we are celebrating at the site of the first public AA meeting in Los Angeles. The event is part of LAPD's yearlong project, focusing on Skid Row as "The Biggest Recovery Community Anywhere".
In 1941, the first public meeting of Alcoholics Anonymous took place at the downtown Cecil H
otel at 640 S. Main St. A man named Mort J. started the first public AA meeting there. At the time effective recovery programs were hard to come by for men & especially women. Sybil C. was the first female AA member in Los Angeles. Today, there are hundreds of Alcoholics Anonymous and other 12-step fellowships meetings conducted weekly throughout Southern California.
"When I peered out from behind the curtain, I saw a thousand people sitting there. … incredible. …evidence AA could cross the seas and mountains pretty much on its own."-AA Founder Bill W. during a visit to LA in 1943
Si
nce 1940, the Skid Row neighborhood of downtown has become a regional resource recognized for its concentration of free and low cost recovery programs and for the sophisticated recovery consciousness of community residents who live and work in the neighborhood and organize and sustain numerous daily meetings and fellowship events. The January 26 event will include a performance by Downtown artists and OTIS students.