The 11th annual Festival For All Skid Row Artists is about to happen on the 3rd weekend in October. On Saturday, October 17 we will bring you the Festival For All Skid Row Artists online and in person.
Alas! It's not possible to get together with so many people in the Skid Row parks, due to COVID_19. Rec & Parks is only allowing up to 50 people with physical distancing in our parks.
We are creating a 'hybrid' festival in the form of an on-line streaming event and an in-person screening of that event for a limited audience in Gladys park and at Studio 526. We will project the webinar on a screen in Gladys park for 50 physically distanced people. And artists at Studio 526 will work on a collaborative painting, as they do each year, and give us updates during the webinar.
And we need your in-put!
We want to showcase your music / performance / poetry / spoken word / art / creations!!
Your video's will be screened in Gladys park, on our FB page and on Zoom.
If you want to participate, please send us a 2 – 3 min. video that showcases your work. The deadline for submitting the video's is September 26, 2020. It can be a video of you singing a song or playing music, reading a poem, performing a short monologue or scene or dance.  Or you can film your artwork and talk about it on camera. 
During the webinar we will showcase about 15 artists or groups. So, the sooner you send us your video's the better!
You can send us your video's, up to 2GB, via wetranfer, it's free: use this link https://wetransfer.com/ attach your movie file and email it to
info@lapovertydept.org
The videos have to be free of any rights. Check out the flier that explains how to record your video. Most importantly: record yourself in LANDSCAPE mode on your phone or tablet.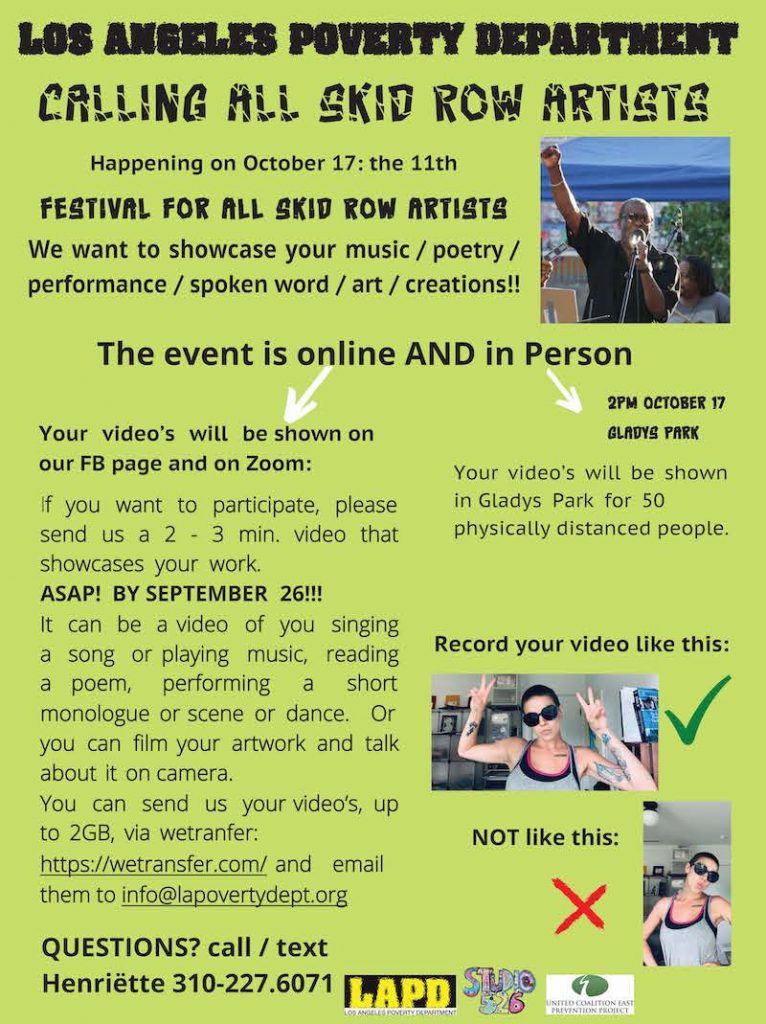 If you have any questions you can also email us at info@lapovertydept.org Or call / text Henriëtte at 310-227.6071
We have missed seeing you in person and we look forward to seeing your videos! Be well and stay safe and creative.