THE "WALK THE TALK" EXHIBITION features portraits, interviews, transcripts and performance scripts and videos of 52 people who have lived and worked in Skid Row and have been instrumental in creating a neighborhood in which the interests of its low income residents are prioritized and their voices heard.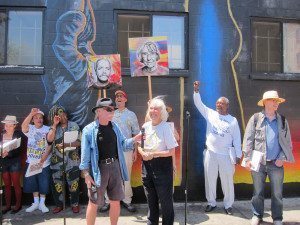 At a time when Angelinos are living homeless throughout LA County, and government is looking to adequately respond, this archive is an important resource. It features groundbreaking initiatives that have proven transformative because they recognize and employ the humanity, wisdom and creativity of Skid Row residents to solve problems and build community.
The exhibition features people who have been recognized in Los Angeles Poverty Department's biennial Walk the Talk parade of 2012, 2014 and 2016.
The show is curated by LAPD and designed by LAPD in collaboration with Robert M. Ochshorn. Ochshorn is a researcher at the Communications Design Group (San Francisco), where he designs media interfaces for extending human perceptive and expressive capabilities. Ochshorn is an on-going collaborator with the Skid Row History Museum & Archive, having designed the museum's inaugural exhibition "Blue Book / Silver Book" in 2015. Ochshorn will build on the architecture developed for the "WALK THE TALK" exhibition to organize and make accessible the entire collection of the Skid Row History Museum & Archive.
For the "WALK THE TALK" exhibition, Ochshorn has written software that allows instant and parallel navigation of hour-long interviews from transcript to video and back again of these 52 historically significant Skid Row figures. This archive will also be searchable by subject (e.g., "Gladys Park", "Jan Perry", "Department of Social Services", "Skid Row musicians" etc.) The "WALK THE TALK" exhibition allows for non-linear, digitally reconfigured navigation through the content — activated by each visitor — a mechanism for each visitor to experience the exhibition uniquely.
At the Skid Row History Museum & Archive: 440 S. Broadway, mezzanine level, Los Angeles 90013.
Exhibit hours: May 18 – July 31, 2016 – Friday, Saturday, Sunday from 2-5pm.
Opening reception: Wednesday, May 18 from 5-6pm.