Since 2015, Skid Row community members and groups have engaged with the Department of City Planning in response to the DTLA2040 Community Plan. They created a created a coalition: Skid Row Now & 2040. Visit the Skid Row Now & 2040 Facebook page
*Containment and Community: White Paper on the History of Skid Row and its Role in the Downtown Community Plan, written by Catherine Gudis and the Summary of the White Paper. *This DRAFT_04.21.22 will be revised to reflect additional comments and community feedback.
You can sign our online petition here.
Skid Row Now & 2040's Vision Document
Vision Document graphic: the short list.
Skid Row Now & 2040's response to the DTLA2040 community plan: 9 talking points.
Talking points for the City Panning Commission's hearing: Public Comment toolkit
In 2015 Theresa Hwang lead the community in creating the Our Skid Row community designed map

Los Angeles Poverty Department dedicated serval projects to the new zoning plans and the consequences they will have for the Skid Row community. See pages: The BACK 9, Golf and Zoning Policy in Los Angeles and How to House 7,000 People In Skid Row. And an exhibition about Skid Row's efforts to have representation in the decisions that are made about its community: Zillionaires Against Humanity: Sabotaging the Skid Row Neighborhood Council.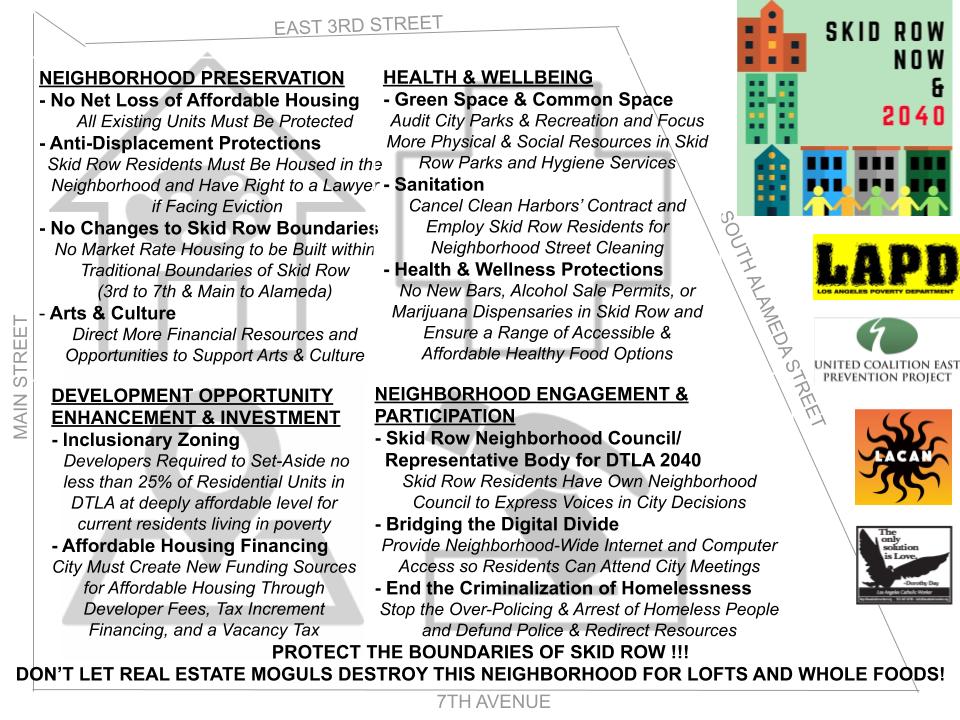 As a result, the Department of City Planning created a special zone where only affordable housing with extremely low and deeply low-income levels can be built: the i X 1 zone. But the zone doesn't cover all of Skid Row, it squeezes affordable housing into the blocks East of San Pedro: between Alameda and 5th and 7th street. We want the expansion of the i X 1 zone to the existing Skid Row neighborhood boundaries: from Main to Alameda, and from 3rd to 7th street.

Download DCP's Draft Concepts for Skid Row Plan Area 2 Area 2 is the Ix1 zone, approved by the City Planning Commission and Council member for district 14, Kevin de Leon.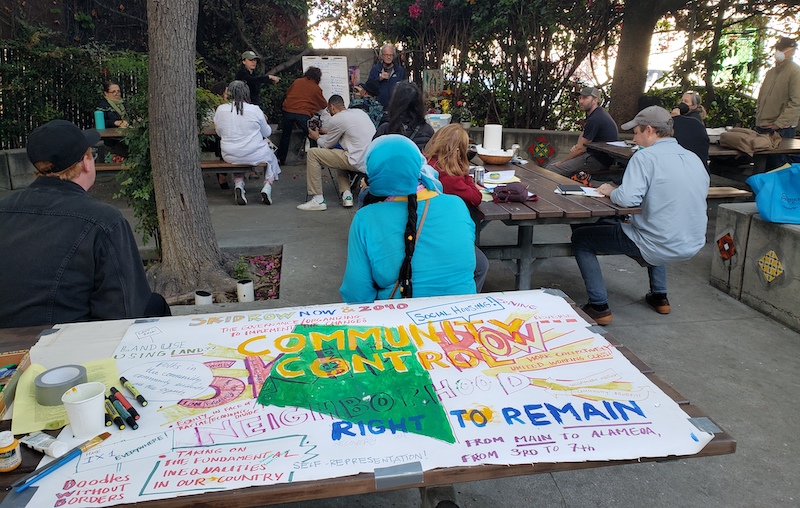 May 25, 2021 – WOMEN IN SKID ROW
A group of engaged Women in Skid Row (WISR) wrote an letter and submitted an Amicus Brief in response to the lawsuit against the City and County of Los Angeles by Judge Carter and the LA Alliance for Human Rights.

The Honorable Judge David O. Carter, LA Human Rights Alliance, and the City and County of Los Angeles:
We represent a collective of advocates for the unhoused people of Skid Row, and we are extremely troubled by the consequences for our community should the Court's injunction be implemented. Despite purporting to be an attempt to combat the circumstances created by historical racism, displacement, and houselessness, especially for bodies of color, this injunction reads like the blueprint for white supremacy and systemic racism. Read the entire letter here.