In response to the DTLA2040 Community Plan, a coalition of Skid Row community members and groups have created a coalition: Skid Row Now & 2040. The coalition created a Vision Paper for the Skid Row community and additional ideas for funding housing that will get people off the streets and into housing.
You can download our updated Vision Document here.
SRN&2040 response to the DTLA2040 community plan: 9 talking points.
You can sign our online petition here.
Vision Document graphic: the short list.
Skid Row Now & 2040 facebook page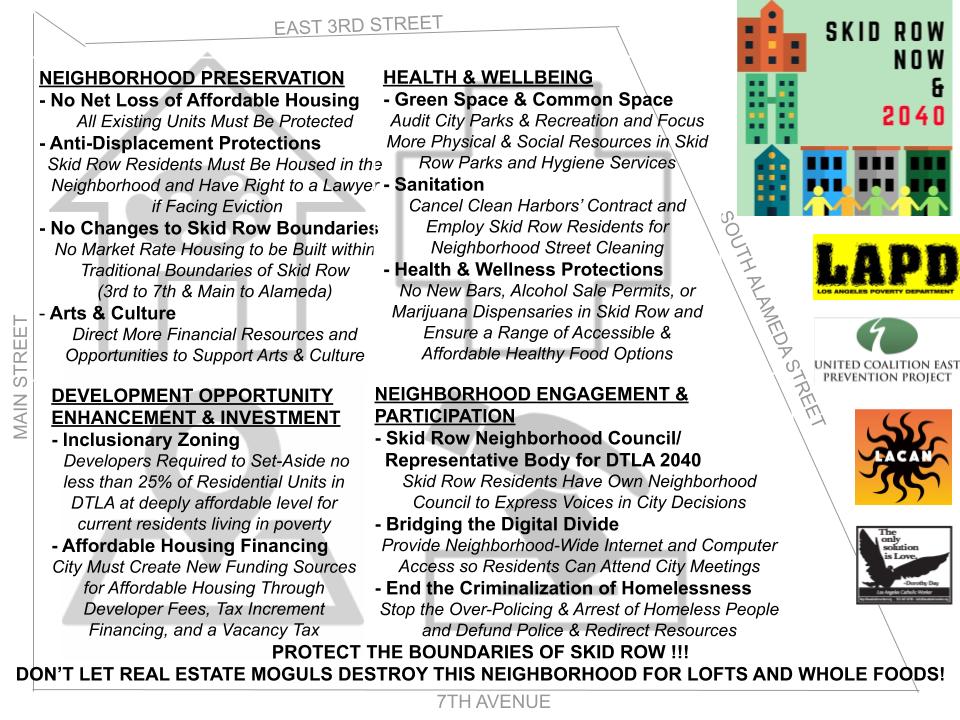 As a result, the Department of City Planning created a special zone where only affordable housing with extremely low and deeply low-income levels can be built: the i X 1 zone. But the zone doesn't cover all of Skid Row, it squeezes affordable housing into the blocks East of San Pedro: between Alameda and 5th and 7th street. We want the expansion of the i X 1 zone to the existing Skid Row neighborhood boundaries: from Main to Alameda, and from 3rd to 7th street.
Watch the Public Comments we submitted at the Public Hearing for the DTLA 2040 Community Plan draft.