Friday, December 6, 2019 at 7pm – Screening Skid Row Marathon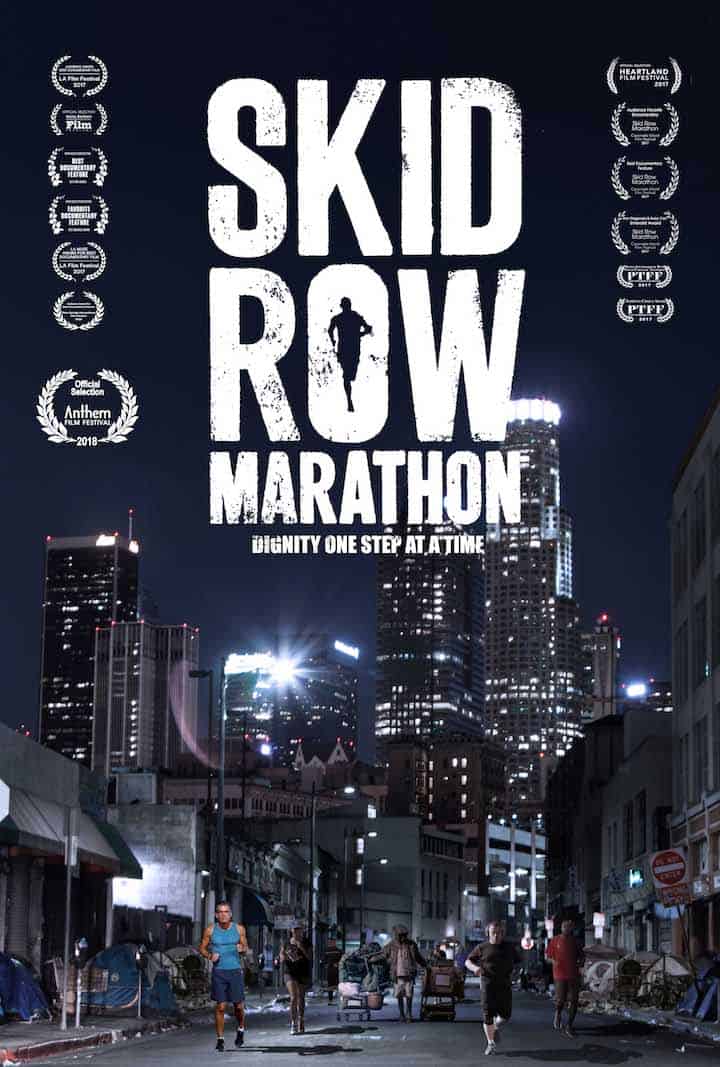 Directed by Mark Hayes, produced by Gabriele Hayes
Runtime: 1 hour 25 minutes
Q&A with Judge Craig Mitchell and runners from the Midnight Mission
When a criminal court judge starts a running club on LA's Skid Row, lives begin to change. SKID ROW MARATHON follows four runners as they rise from the mean streets of LA to run marathons around the world, fighting the pull of homelessness and addiction at every turn. Their story is one of hope, friendship, and dignity.
Skid Row Marathon is the uplifting and inspiring story of an unlikely group of individuals from LA's Skid Row, who receive a second chance at life, all brought on by a simple act of kindness.
Follow the story of High Court Judge, Craig Mitchell as he coaches a long-distance running club from the Midnight Mission on Skid Row. Using the redemptive power of running and the camaraderie of the group, marathon training raises the spirits of Skid Row's inhabitants and gives a sense of purpose to a group of people who are homeless, addicted or coming out of the prison system.
"One horrendous act does not define a person in his entirety" and so the film highlights the transformation of homeless and often helpless individuals into sober, rounded and functioning members of society.
About Judge Craig Mitchell: After teaching high school in South Central LA for more than 17 years, Craig Mitchell decided to go to law school and went to work as a prosecutor in 1994 in the L.A. District Attorney's office. He became a judge in 2005. One of the defendants whom Judge Mitchell sentenced to prison approached him after he was released. He asked the Judge to visit him at the Midnight Mission. An avid marathon runner himself, Judge Mitchell started a running club in 2012, inviting Mission residents to run with him through skid row a few times a week. If the members stay clean and come to the regular training runs, Judge Mitchell takes them to an international marathon. Last March 40 Skid Row Runners completed the Jerusalem Marathon.
Los Angeles Poverty Department's Movie Nights at the Museum
Free movie screenings, free popcorn, free coffee & free conversation. Every 1st and 3rd Friday of the month, we screen movies about issues that are important to our Skid Row and downtown community at the #skidrowmuseum.
Location: Skid Row History Museum and Archive, 250 S. Broadway, Los Angeles, CA 90012