Reweaving the Social Fabric of Skid Row
July 22, 2010 7:00 PM [ALOUD] at Central Library
Co-presented with Los Angeles Poverty Department.   


A panel discussion and conversation about a public art theater project that chronicles the emergence of a permanent community and culture in what has been perceived as a transient Skid Row. Join the social and artistic visionaries who have contributed to reweaving the social fabric of Skid Row.MODERATOR: Dr. Maria Rosario Jackson is a senior research associate in the Metropolitan Housing and Communi  ties Center at the Urban Institute (UI) in Washington DC and director of UI's Culture, Creativity and Communities Program.  Her research focuses on urban policy, neighborhood revitalization and comprehensive community planning, the politics of race, ethnicity and gender in urban settings, and the role of arts and culture in communities. Dr. Jackson's work has appeared in academic and professional journals as well as edited volumes in the fields of urban planning, sociology, community development and the arts. Dr. Jackson has also taught graduate and undergraduate courses in social policy, planning for multiple publics, community economic development and research methods.
PANEL:

Clyde Casey is a visual artist and musician.  He makes large movable drum sculptures and  uses them  to create participatory musical events.  In 1988, at the corner of Wall and Boyd Streets, the site  of a former gas station and parking lot, Clyde Casey created Another Planet, an outdoor cultural space, where you could find poetry, ping pong, TV, live music and jam sessions by and for people in the community, twenty-four hours a day. The spot also offered storage for belongings and free clothing. Another Planet flourished for a year, before burning down in a fire in 1989.
An LA native and artist, Manuel Compito (aka OG Man) has devoted his creative energy to spreading a self-help philosophy. His OG's N Service Association dedicates itself to uplifting the men and children of Skid Row. In 2007 OG Man launched the highly successful 3-on-3 Basketball League at Gladys Park.  Other OG's N Service activities include an annual Fathers Day celebration of responsible parenting and a beautification program that brought painted trash cans to the neighborhood when the City's Sanitation Bureau failed to provide trash cans on Skid Row.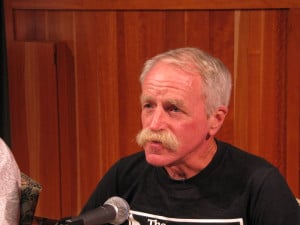 In 1970, Jeff Dietrich and  Catherine Morris founded the Los Angeles Catholic Worker, a lay Catholic community of men and women which operates a free soup kitchen, hospitality house for the homeless,  AIDS ministry, hospice for the dying, a newspaper, and regularly offers prophetic witness in opposition to war-making and injustice.   Jeff  has  been active in direct service and in the development of humane services and neighborhood amenities for people living in  poverty in Skid Row.  The Catholic Worker's early involvement in the neighborhood has encouraged the involvement of other initiatives, including the founding of Las Familias del Pueblo and Inner City Law Center.
John Malpede directs, performs and engineers multi-event arts projects that have theatrical, installation, public art and  education components.  In 1985, Malpede founded the Los Angeles Poverty Department (LAPD). LAPD 's mission is to create performances that connect lived experience to the social  forces that shape the lives and communities of people living in poverty.   Malpede has produced projects working with communities throughout the US and in the UK, France, The Netherlands, Belgium and Bolivia. Malpede has received numerous awards, among them: San Francisco Art Institute's Adeline Kent Award, Durfee Sabbatical Grant, LA Theater Alliance Ovation Award, NEA,  California Arts Council, City of Los Angeles' COLA Fellowship, California Community Foundation's Visual Artist Fellowship, and was a 2008-2009 fellow at MIT's Center for Advanced Visual Studies. https://www.lapovertydept.org/wordpress/wordpress/
In 1999, Pete White founded LA CAN, to ensure that people living in poverty have voice, power and opinion in the decisions that impact their lives.  LA CAN builds indigenous leadership within the Central City East community to address the multitude of problems faced by homeless and very low-income residents of the community, including civil rights and housing on the streets and in the hotels.   LA CAN has built a broad base of informed residents that have mounted successful campaigns to defend their tenant, civil and human rights, both on the streets and in residential hotels. http://www.cangress.org/