"Pay it No Mind: Marsha P. Johnson"
– June 10, 2016, 7pm
@ Skid Row History Museum & Archive
440 S. Broadway, Mezzanine Level, Los Angeles, CA 90013
Tel.: 213-413-1077 | E-mail: [email protected]
Film Synopsis
This feature-length documentary focuses on revolutionary trans-activist, Marsha "Pay it No Mind" Johnson. A Stonewall instigator, Andy Warhol model, drag queen, sex worker, starving actress, and Saint. With her final interview from 1992, director Michael Kasino captures the legendary gay/human rights activist as she recounts her life at the forefront of The Stonewall Riots in the 1960s, the creation of S.T.A.R. (Street Transvestite Action Revolutionaries) with Sylvia Rivera in the '70s, and a New York City activist throughout the '80s and early '90s. Through her own words, as well as in-depth interviews with gay activist Randy Wicker, former Cockettes performer Agosto Machado, Author Michael Musto, Hot Peaches founder/performer, Jimmy Camicia, and Stonewall Activists Bob Kohler, Danny Garvin, Tommy Lanigan-Schmidt, and Martin Boyce, Marsha's tale lives on.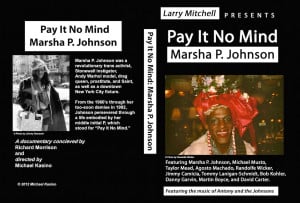 Film details
Director: Michael Kasino | Running time: 55 min
Speaker Bio
Chella Isabel Marie Coleman is a black trans activist and organizer, seeking to educate and empower the trans community especially in Skid Row.
It'll be Pride Month, and it'll be important
Since the murder of Kourtney Yochum, a transgender woman, on Skid Row in March, the challenges transgender women face in the Skid Row community have become all the more apparent. LAPD wants to bring the community together and frame a conversation that also goes beyond Skid Row.