Our dear friend and collaborator and Key LAPD staff member KevinMichael Key has passed on.  He died on Wednesday, July 19, 2017, surrounded by his loving children, brother, grandchildren and friends.
Kevin is a big and loving presence in the Skid Row community, working as an advocate with UCEPP (United Coalition East Prevention Project), as a community liaison for the diabetes program at JWCH Community Clinic and an important member of Critical Resistance.  He'd also worked with LA Community Action Network (LA CAN) and been a 2 term member of the Downtown Neighborhood Council.  He was one of the community leaders in the campaign to defeat a liquor license in the New Genesis Hotel, and that organizing victory became the subject of LAPD's 2016 production "What Fuels Development?"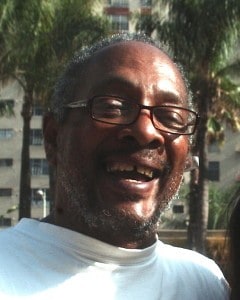 Through his many involvements Kevin was an amazing effective connector in the community, coolly ambling down the street he operated at a speed faster than internet–and louder.  He'd boom out a shout to somebody across the street and get things done.  Or as he'd say, "when everyone's out there is pumpin' and fakin', KevinMichael is smoken' and shaken".  Kevin loved Skid Row cause it was the "New York part of LA".  A former public defender Kevin was at ease approaching and if necessary getting in the face of people in suits, but his main love was striking up a conversation with anyone on any street in Skid Row.   Of course, he loved people wherever he was.  LAPD was in El Alto Bolivia, about to do "Agentes y Activos" our Spanish language show about the futility of the war on drugs.  El Alto is a shanty town of over a million people that hovers over the city of La Paz.  Before the show, Kevin went out in to the plaza, and with super limited Spanish approached families, adults and children, giving them fliers and a big smile.  "Agentes y Activos, teatro, gratis, aqui en quince minutos".  Fearlessness enabled by love.  When we played the same show in a prison, afterwards one of the inmates referred to him as "the big Cubano",  because of his accent.  We all felt this was a big coup—that his accent was recognizable as anything in particular, as he'd learned his lines phonetically.
Kevin was proud to say, "Skid Row saved my life.  I got clean and sober on Skid Row."  And he helped a lot of people on the road to recovery.  Never preachy, but always warm, disarming and funny, Kevin was able to convince people that they could do better for themselves, get out from under their pain.  We were reading an article from the New York Times claiming that Del Rey Beach was a big location for recovery, because there are all sorts of expensive programs there and people come there, go through the programs and then stay in the community.  We laughed and decided that's nothing compared to Skid Row.  We decided to make "Biggest Recovery Community Anywhere", which we did.
When  he received his cancer diagnosis, we went from rehearsal to the sidewalk outside his apartment at the Yankee Hotel for a group hug that lasted 15 minutes —as sirens blared and fire trucks pealed off from Skid Row firehouse #9.  At the end of the hug Kevin looked at us all, Henriëtte, Tone-Tone, Christina and myself and said, "From now on only love."
We're carrying your love with us my brother.  We love you Kevin.  Only love.
John Malpede
The funeral service will be held on Thursday, July 27 at 11AM
at the Zion Hill Baptist Church, 7860 10th Avenue, Los Angeles, CA 90043
Skid Row will come together to celebrate his life on Saturday, July 29 at Gladys park (corner 6th and Gladys Avenue). > Bring your instrument or something to make mucho noise and wear your favorite hat in honor of our KMK!!
11am: parade through Skid Row. Noon: back at Gladys park and open mic with Skid Row Artists and anyone who wants to speak, sing, testify.