When:
February 23, 2023 @ 2:00 pm – 5:00 pm
2023-02-23T14:00:00-08:00
2023-02-23T17:00:00-08:00
Where:
Skid Row History Museum and Archive
250 S. Broadway
Los Angeles
CA 90012

Contact:
Los Angeles Poverty Department
213-4131077
COSMOLOGY & COMMUNITY: Networks of Liberation
This exhibition centers on the work of Community Curator Charles Porter,  in collaboration with & su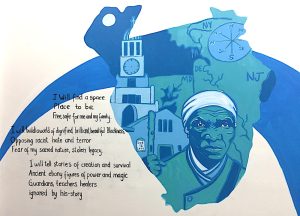 pport of curatorial staff of Skid Row History Museum & Archive.
Opening February 18, from 5 to 7pm – through July 31.
Open: Thu, Fri, Sat 2-5pm.
Charles Porter, Project Coordinator for United Coalition East Prevention Project [UCEPP], a community-baseddrug prevention program in downtown Los Angeles, has been working in the Skid Row Community since 1999, collaborating with community members to engineer campaigns to bring necessities, amenities, and agency to Skid Row. A hallmark of Charles' work is the use of music, poetry, and the cultural heritage of the African diaspora to engage, educate and mobilize Skid Row community members.
Charles' and UCEPP's contributions include a major role in the creation of the Skid Row Community ReFresh Spot, a 24-hour outdoor space providing access to showers, washing machines, toilets, and other amenities, staffed by Skid Row residents and those with lived expertise, a seeing more than 500 uses of services a day. Additional contributions include the formation of a Row Skid Parks Committee (that eventually attained official recognition by the City Recreation and Parks Department, helping to lay the foundation for a Park Advisory Board) and advocacy with LAUSD that resulted in the district's expanding resources to address the needs of homeless students.
The exhibition: "Cosmology and Community: Networks of Liberation" weaves together five components beginning with Charles' family history and origins in a historic free Black New Jersey community, the role of mentors, and his education at Howard University. The second part of the exhibition explores philosophy, recovery, wellness, healing, and the quest for meaning, examining social model approaches utilized in Skid Row to create healthy lives and communities. The third part of the exhibition focuses on culture and explores Charles' incorporation of cultural learning, music, poetry, and African traditions in his work in Skid Row. The fourth component highlights community formation and transformative community-led initiatives to increase safety, expand resources, provide support, and strengthen neighborhood ties. The final component highlights the need for voice, agency, and responsive systems that facilitate autonomy and increase accountability.
Original poetry on the gallery walls, narrating the components of the exhibition were written by Charles who also informed the creation of referential mural elements created by Dimitri Kadiev, Joshua Grace, and Ellie Sanchez. Each station will have video, audio, and a notebook of historical and contemporary documents. Musical performances, public conversations, and theatrical events are being planned for the run of the exhibition, which will be up through July 31.
Curatorial and production support for Community Curator Charles Porter, is provided by LAPD / SRHM&A's directors John Malpede and Henriëtte Brouwers, and archivists Henry Apodaca and Zachary Rutland. This is the first exhibition in SRHM&A's "Community Curator" exhibition series.
This project was made possible part by the Institute of Museum and Library Services.