Skid Row History Museum & Archive
Exhibition hours: Thursday through Saturday 2-5 p.m.
250 S. Broadway, Los Angeles CA 90012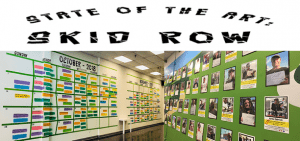 State of the ART: Skid Row – Exhibition
October 7, 2018 through December 29, 2018
Opening Event: October 12, 2018, 6 – 9 p.m.
Ten years ago Americans for the Arts partnered with Los Angeles Poverty Department to do the first inventory of arts in Skid Row. The findings were released in a study, Making the Case for Skid Row Culture.
This exhibition checks in on the state of the arts in Skid Row ten years later. As a direct outgrowth of the inquiry the Los Angeles Poverty Department initiated, The Festival for All Skid Row Artists and maintains a registry of participating festival artists, now counting over 700 artists, a 130 of whom are identified in photos and posters on the gallery wall and in video's in this exhibition.
Activities of all Skid Row Artists and groups taking place in October and November are listed on our gallery-wall-sized-calendar and adjacent to it is a map of Skid Row murals.  A convening of the neighborhood to reconsider current conditions will take place during the run of the exhibition.